The
antiquarian city of Amrit….they paved roads to it
,
so it became a favorite place for the fiddlers
!!
Al-Wahda newspaper 1-4-2005

What is the responsibility of the ministry of tourism about the Antiquities? Why our archeological sites and antiquities are always neglected and abandoned, also open to thieves and fiddlers to come and do what they want? How big is our role in destroying what remained from our own rich and ancient heritage, which the first human civilization started from it?


It is nice what we heard about from a large interest in tourism and wide motivating from the official sides for large touristic projects, but on the opposite where are we from what we have?


I will invite to visit the forgotten city of Amrit, which was one of the primary cities on the Canaanite Phoenician coast, and also was the primary city on the continental part of the Arwad kingdom, the first Olympic stadium on earth was built in it…as the say to see is better than to talk…. this city is still around until now…although it's not inhabited, not served, and not discovered until now even…

And when the responsible people decided to take care about it, they made subsidiary roads to it recently starting from the main road and filled them with ballast as a preparation to pave them upon the antiquities, so the cars and buses can get into it and violate it as if we are in a forest of predating animals!!
(The following pictures are to make the idea clear and they don't exist in the original (Text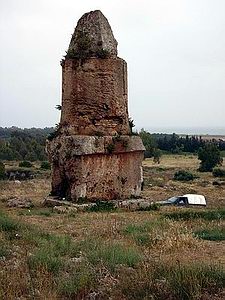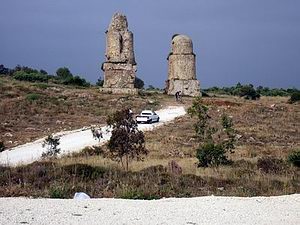 Wouldn't it have been much better if they did narrow paths for walkers and paved them with black basalt, so the visitors can cross the distance between the main square and the spindles which equals 150 m on foot.


The site is still in a good situation and it is possible to save it and prepare it in a good way to protect its original identity, and it can make good touristic income because the area is wonderful and flat land that's in front of it is directly open to the sea.

The second case I want to talk about is what was improved on the Arwad western ledge, where the ledge was filled by baton and with a height that was not studied well, between the rocks that form the western armor of Arwad which protects it from waves, so the waves there got high as much as the new baton walls are high , so the Turkish bath and the neighboring houses are now under the mercy of waves to destroy them as much as possible, and that's what the neighboring inhabitants of the Turkish bath confirm.

)The following picture is not from the original text; it's just to make this idea clear(

The ancient Arwadians protected the western area by building two walls of rocks and they chose the western and southwestern area of the island because in winter this part of the island is hit 85 % by south-western storms.

What we want is specialized and competent people in improving and repairing instead of the ignorant which do unorganized and random things, to protect what we have from our cultural heritage and repair what has been damaged to save what has left from our archeological sites and antiquities.

Rana Al-Hamdan
Translated by: Anas Abbas