Before we lose Amrit…. the city of the Purple and alphabet

History is the memory of the nation and the heritage of its culture and civilization. Some people try to invent some culture and make roots to give them places in the depth of history.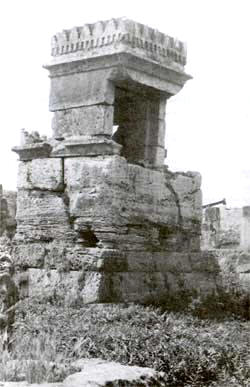 They fake the truth some times, and steal the heritage of those who left their impact on the land of humanity, in the end they try to erase the memory of peoples and attack it by all kinds of silly exciting things, to make homelands as bodies grooving and mean less connections, and an endless series the west inventions, which cares about our development and democracy.

(Save Amrit) a scream that shouldn't be in an empty valley, and in order to let this scream has an echo ,the branch of Adytat society of Tartous and Homs held a seminar in the society of the university graduates in Homs, in which many speakers participated.

In a good enlightment about the Amrit archeological site Amrit Volunteers team presented an explanation about the history of Amrit, with very accurate and beautiful pictures and showed all the places of the sleeping city since many centuries which are discovered now.

I think that the most important thing about this seminar in addition to the quantity of knowledge that was presented, was the group of young volunteers to launch this initiation in order to attract sight to Amrit which was wrote down in the list of 100 most endangered sites in the world.

The well-known historical researcher Mr.Malatus Jaghnoon talked about Amrit according to the old and new historical documents, and these are some parts of his speech:

"The historian Philip Hatti in his book (Lebanon in history) says that Amrit name was mentioned in the ancient Egyptian texts amongst other 14 Phoenician cities. The German archeologist Burkhart mentions in his book (The ancient inscriptive Canaanite epigraphy in Egypt) that the name (Qart Amret) is an ancient eastern Semitic name that means the city of palms."|

William Word says : the researchers can see a meaningful similarity between the words (Amret , Amrit and Amuro) and particularly that this area was known as the land of Amuro during the rule of the second dynasty of kings of Egypt ( 1991-1786 B.C) .

Mr.Malatus Jaghnoon thinks that the name is western Aramaic particularly that we know that the Aramean settlement here in this area is something proved historically, and the name (Omerto) in Aramaic that means the inhabited place.

About its flourishing of Amrit and currency making inside it, Ernest Babylon mentions in one of his books (The making of the bronze currency in Amrit proves the flourishing of the city in the third and second centuries B.C.

About its destruction of the city the historian Theodore of Sicily, who lived in the first century B.C (The Arwadians destroyed the city of Amrit during the rule of the king Alexander Palas) about 150 or 148 B.C.

About its identity and the impress of its sites (the temple and the stadium), Mr.Jaghnoon sees that Amrit maintained its first Phoenician impress, because the French researcher Ernest Rennin during his diggings noticed that there are no Greek or Roman scripts in the city.

Today there is nothing left from the inhabited places in Amrit, and in today's Amrit we can only see what's left from the temple, the stadium, and the cemeteries and graveyards which were excavated by (Morris Dono), (Naseeb Saleebi), and (Kerishian), these excavations proved that the city was inhabited by Phoenicians since the third millennia B.C at least.

Then Mr.Jaghnoon finishes saying: " the most important that we know about Amrit today is the temple, the stadium, the port or at least what refers to its existence and the cemeteries (Azar and others). What we don't know about Amrit is under the soil, and what we don't know is much much more than what we know about it, so we have a long road to discover more and we hope that the young Syrian excavators from volunteers and employed ones will discover the truth about the city."

The volunteers had a big role in putting the soil aside from the history of Amrit, starting from its importance because they care about the culture of the country, they started with the important places which were robbed and neglected and these are Azar cemeteries that are located about 2 KM from Amrit site, and till now excavations are taking place by a national mission in cooperation with the volunteers which are there based on their love to the country .These works are happening in the same time , in which the ministry of tourism has plans to put it in touristic investments.
The volunteers ask, that the site should be invested in a cultural touristic way, by preparing the site to be a real touristic attraction.

The volunteers during the seminar criticized the negative actions that were taken by the general sector institutions like:

Establishing the high way of Tartous-Tripoli through the site of Amrit and Azar, and throwing rubble in the site by Reema Company, also throwing the garbage of the city in the cemeteries of Azar by the city council.
In addition to the pillars that Tartous electricity company did inside it….and other actions done by other institutions.

The volunteers consider that putting the name of Amrit for investments market is the worst offense that happened to Amrit recently, and they wonder isn't the name of Amrit enough to put aside all the projects that need substructures and services??!

After all the offenses we mentioned and the absence of consciousness, the only thing that the responsible people in the Archeological sector had to do is to write it down in the list of 100 most endangered sites to get enough financial support to support its budget-as the volunteers said-.


These are parts of the UNESCO report about Amrit:

The towers in Amrit were exposed to high humidity, the thing that effected on their stones a dangerous degree, in addition to some plants, which started to strangle the site. Writing down Amrit in the (mwf) list of the year 2004 amongst the 100 most endangered sites, helped in increasing its importance to the national authorities especially to the Directorate General of Antiquities and museums, but since writing it down not too much to save it took place, or even to stop building near the archeological ruins. Amrit is in an extreme need to be protected from destruction, and needs to be documented, the ones working in its case need to be trained and money should be collected to do all the things mentioned above.

Amrit volunteers finished saying: that the culture appeared amongst people and people have to guard it, the participation of people is the base of the process of saving eternal ruins and antiquities and maintain them.

Syria the beautiful land, about which the director of Louver museum André Paru once said:

(Each man has two homelands : his own where he lives, and Syria)
Syria needs all the efforts to save its heritage that we can't do with it, what we want except if it was in order to save it and make the future generations inherit it, this heritage is a lighting torch needs to be carried, and these young people carried the flag to save Amrit, so (Save Amrit) , and save every forgotten beautiful site in the beautiful Syria.

Suzan Ibraheem

For more information Read:Adyat Society in Homs holds " save Amrit" Seminar
Translated by: Anas Abbas