Three young Syrian guys save the archeological site from being forgotten….and from garbage. They win over the greed of investors !

Al-hayat newspaper 19/09/2005
"From the first sight I felt in its love, I was wondering as usual on the neighboring roads of my city Tartus riding my bike, I decided to turn right and while I was passing through a brushwood , I started to hear the sound of the wheels rubbing with the paved road to Amrit, I thought that I'm hearing the sound of my breath . Oh God where was this place all this time?!! How near is it!"

That's how Talal (an electrical engineer) started his story and the story of his two friends , Hisham (a lawyer) and Tony (an electrical engineer) ,that's how they started their story with Amrit the historical city ,that existed since the third millennia B.C. It is about seven kilometers south of Syrian governorate of Tartus on the Mediterranean sea.

(The original picture is replaced by this picture of the temple):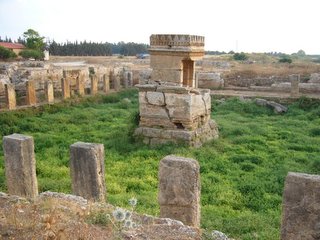 "I'm a tourist from the first class", Hisham heartily explains and adds : "I used to read the (( antiquarian yearbook)) magazine ,which is issued by the Directorate of Antiquities and Museums , so I found a classification of archeological tombs called Azar cemeteries in Amrit, I asked my friends about it and no one of them have heard about them. I checked their location in the magazine and went with Tony and Talal to see them. After our arrival there ,we were shocked of seeing these ancient cemeteries covered with hills of rubbish. And we knew that the area was turned into a place to get rid of rubbish, which gave thieves a golden chance to steal what ever they like from it, after a short period we decided to form a team to save these monuments"
Without any hesitation, the young men went to the governmental executive authorities and kindly request them to clean the area and take care of it, their request was responded at once, but out of their expectations, it turned out that the area was cleaned to be exhibited for touristic investments!!
" the buried bones of our ancestors under the soil, are shaking of fear and whining because of the destiny that's waiting for , and they are counting the days left to the bulldozers to come and drift their tombs and soil, and construct in their place hotels and amusement centers . Our ruins will be buried under the masses of beton , if we don't start an international and local campaign to save them as soon as possible " …that's what was Tony thinking about ,while he was jealous of his country and sad of not exploiting these touring abilities .
As a response to this tragic reality , Tony, Talal and Hisham contacted the excavation mission that's sent by the Directorate of Antiquities and Museums ,in order to stop the attack of the touristic projects, because this mission is responsible for writing a report that classifies the area by one of these three options:
The first is to be totally considered an archeological site so no hotels can be constructed inside its territory, the second is to consider it as small and limited archeological site which can be exploited as an archeological site near the hotel(s), the third is to transfer the findings to the museum and the land shall be left to be invested by the project owners as they want.
The three young men determined to convince the mission with the first option, so they organized a tour with the mission to the site ,and showed it the neglected cemeteries and the important ruins which is buried only a few meters under the ground. They succeeded and the mission moved its workplace to Azar cemeteries, and wrote a report that demands to stop the touristic investment of the area, and for more security the young men asked to put guards for the area and they set a tent(( mobile )) for them especially ,on their account. They also participated in paying the rent for places where volunteering students from the archeological college who showed their desire to work with the excavation mission with a house for female students and a tent for male students.
The volunteers encouraged the touring trips and the inhabitants to visit the site, the thing that made many people sympathize with them so they gained new volunteers to achieve their noble aim. They also exploited an incident of stealing two ancient tombs to make media turned their case into a public one. The result of these efforts was positive, that the minister of tourism issued a decision for stopping any touristic projects in the site and registering the young men and women as official volunteers to save Amrit.
For achieving their goal, each one of the volunteers gave his abilities depending on his specialist. They believe in this vital aim:" a homeland civilization"
"I joined the volunteers team recently " says Ghada ,she works as a dentist and she is also an artist. " since I have worked as a doctor ,I cooperated with my colleagues from all specializations to give a medical insurance and free medicine to these young people, who are in danger at any moment for the falling of the rocks over them ,sunburns …etc. I also suggested to the kindergarten to take care of my son and to take the children to Amrit in order to draw paintings of the Ruins there and I promised to put them in my exhibition of photography and painting, which will be held soon and most of its paintings will be inspired from the archeological scenes of Amrit"
Talal has used his specialization in computer and electronic networks to construct a website about Amrit ,after Hanna has presented it and he is also one of the volunteers ,for free.
The site ((www.amrit-syria.com)) is of course not commercial. " Our ignorance about Amrit was a strong slap for us ,so we decided that our mission is to make everybody know", Talal explains and continues : "Nobody should be ignorant of the civilization and culture of his region and it is not acceptable to keep the valuable information in this way. Our mission is to make people know up to date, so everybody can play the his role as a watcher and as a responsible person"
" When the hands became too many the work atmosphere became more interesting and shovels started to pick up sands and throw them in wagons, and I found myself here in Amrit in Azar cemeteries in the History of my city , I found myself in a sweet lighting dream". That's what Nagham has written (graduated from the Fine arts college) describing the atmosphere of the voluntary work that achieved too much not only in saving the city, but also in the personal aspect for each volunteer. Amrit has become a part of their daily activity and their relationships with each other.
Nagham has his own story with Amrit. He was abroad for a long time and as soon as he came back he joined the volunteers team to save this archeological city . " I can't describe my feeling when I'm inside the ground searching for history, today I use my specialization and all of my possibilities to serve this goal, I'm now making paintings about the site and organize work among the volunteers, our mission is hard and long , winter will come soon and we are still asking for enlightening the place at night and constructing a room for the guards to protect them from cold, our demand is not responded yet ,too many difficulties, but we are full of hope that we will succeed and make a change"
"Civilization was created by people and people must work hard to preserve it …" says Hisham and adds: " we don't emulate the Directorate of Antiquities and Museums in their job, but we are working in order to let each person takes his role as each responsible person must take his role. Till when shall we stay the prisoners of routine?"
Tony also emphasizes " Amrit is dear for me, I can't keep quiet about the violations that are happening, what we want to do is to keep the heritage and save these treasures we have. There is no personal benefit or material gains behind our work ,but by its relationships our soul will be enriched and our life will take a new meaning"
The experience of voluntary made a remarkable change in the personal life for each volunteer. For example Talal was determined to go abroad and "search for his humanity" in another country. But he found it here in his relationship with others and in what was under masses of rubbish, with a civilization that goes back to thousands years. Hisham continued his university study and made Amrit and the violation it's been through the title of his graduation letter as a lawyer.
The Phoenician Amrit is not only an archeological city, but it is also a great national project can bring benefits on the city of Tartus and many unemployed young people, there is no excuse for neglecting it??
Bisan Al-bunni
Translated by: Anas Abbas
http://www.daralhayat.com/society/youth/09-2005/Item-20050918-6a321658-c0a8-10ed-0026-faf2cf6667be/story.htm

l